The Catholic Polytechnic University Will Start With Two Certificate Courses This Fall
IBL News | New York

The newly created Catholic Polytechnic University (CPU) will likely launch two certificate online courses in the Fall: on STEM Ethics and on Cybersecurity.
The Los Angeles County-based, science, and tech-focused four-year Catholic university have been lately forming an Academic team and Board of Directors, as well as receiving contributions from engineers and scientists, including NASA's.
The CPU team now includes as advisors a vice-provost from the Catholic University of America, and a CFO from Ave Maria University, along with two prominent NASA engineers and technologists.
"This university is shaping up to be a 'Catholic MIT'", Dr. Jennifer Nolan, Founder, and President of the institution said to IBL News.
"Roughly 50% of our local Catholic high school students pursue STEM degrees upon graduation. Where will they go?  Unlike any other college in California, Catholic Polytechnic University will offer them both faithful Catholic teaching and a focus on top-notch STEM and business degrees," she added.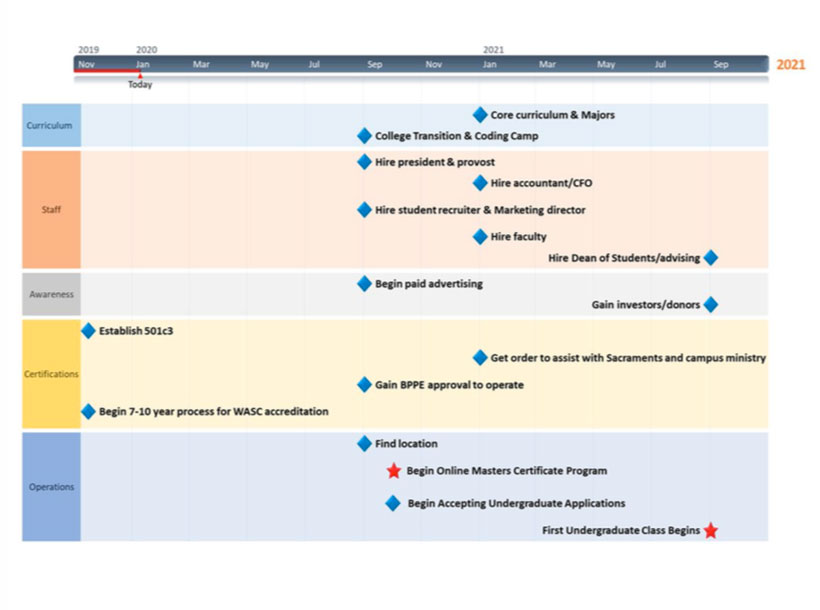 [In the picture above, the CPU team with Archbishop Gomez, who gave the approval to use "Catholic" in the name, and support going forward. From left to right: Dr. Jacqueline Curiel, Dr. John Tran, Dr. Jennifer Nolan, Archbishop José Gomez, Pope Francis, Mrs. Heather Stefanini, Mr. Michael Stefanini, Msgr Albert Bahhuth, and Mr. Paul Escala.]
Resources:
• The Catholic Polytechnic University – PDF
• Jennifer Nolan interviewed at The Catholic Current and The Executive Disciple
• CPU's New Website
• IBL News, Dec 9, 2019: A New Catholic Polytechnic University Will Focus on the Integration of Science and Faith